THE TEMPLE OF THE BOOK
The first Book Town in France, this pretty Breton village has 16 bookshops, 13 art galleries, calligraphy and book-binding workshops. Here, the book is the centre of everything. Most of the bookshops are located around the main square and close to the church. They are easily recognisable by their pretty shop fronts.
The book market in Bécherel
On the first Sunday of the month, the book market takes place. This market is held by professional book-sellers from the surrounding area, particularly Rennes. They add to the range of permanent bookshops in Bécherel. Here you will find novels, comic books, teen and children's books, antique books, and more. There is something for everyone !
BÉCHEREL THROUGHOUT THE YEAR
In addition to the book market, many events are organised that bring the town to life :
The book festival takes place during Easter weekend, with three days of exhibitors, guests, conferences and shows.
Book night : at the start of August, the town organises a nocturnal event with concerts, second-hand books, literary and artistic highlights, all by candlelight.
The theatre programme has been revived with the aim of making the venue more popular, creating energy for the town's 700 inhabitants.
THE JOY OF STROLLING AROUND THE LITTLE STREETS
Bécherel also has a charming historical centre. Take time to wander around the picturesque little streets, to admire the stone walls, the old buildings and the half-timbered houses.
The town is on a hill and culminates at 175 metres. Take the rampart walk where you can enjoy lovely views of the pretty residences and the surrounding countryside. Go down to the little Lake Teinture which has a pretty view of the fortified city and the dominating church ! Then head to the superb covered Couaille wash house from the 19th century.



Bécherel was a wonderful discovery, an invitation to relax, to wander around. An interlude where time stands still to connect with reading, writing and to enjoy the moment. Pop into a bookshop, sit down, pick up a book, a hot chocolate, and enjoy!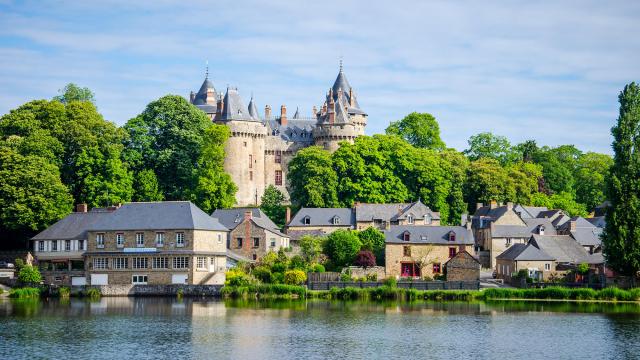 You may also like
Romantic Combourg
A charming small town of character, the town claims to be the birthplace of romanticism, undoubtedly due to the famous writer, Chateaubriand, who lived here during his adolescence. Heritage sites, lovely walks and art de vivre make Combourg an essential step on any Brittany holiday.