THE PIONEERS OF THE COAST
Close your eyes and imagine for just a moment the crème de la crème of the English aristocracy on Dinard beach in their bathing attire, sporting boaters, crinolines and parasols. In the 19th century, Dinard, a seaside resort on the Emerald Coast famed for its mild climate, welcomed an elegant population that came here to breathe in the ocean air. Here in this climate of high-society and abandon, the great names of those who made the resort famous were whispered: Mrs Faber or Mr and Mrs Hallet. It was a different time with different customs; the art of bathing was still in its infancy, but a current had just been born: that of seaside holidays.
THE BELLE EPOQUE
Overlooking the sea, the circuit of splendid aristocratic villas is an interesting route to discover late 19th-century seaside architecture. Walkers will be met with a mix of styles, inspired by Italian villas, Yorkshire cottages, and Louis XIII pavilions. Whereas once the clamour of parties and the opulence of high-society receptions enlivened certain villas, today they radiate with their Belle Epoque charm and the many exotic gardens that surround them. Stop in front of the villa of the empress Eugénie, the house of the Black Prince, the Grand Hôtel and Villa Reine-Hortense, property of a Russian prince.
BREATHTAKING VIEWS
Take a pleasant coastal walk at the bottom of the cliffs to Saint-Lunaire. Stroll along Promenade au Clair-de-Lune, punctuated with beautiful villas, then breathe in the ocean air at Pointe du Moulinet as you admire the breathtaking view of Saint-Malo bay. Further west, setting off from Écluse beach, is Promenade de la Malouine, rocked by the murmur of the backwash against the rocks. Charming isn't it?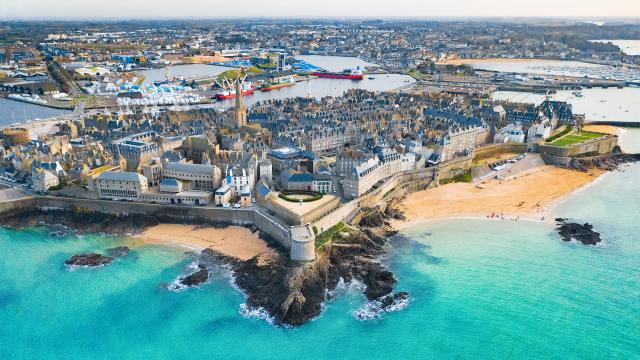 You may also like
Saint‑Malo, the privateer city
The fortress city of Saint-Malo boasts that it has never been conquered! This superb city, also known as the privateer city, can be explored on foot by strolling along the ramparts inside the city walls.