A BREATH-TAKING VIEW
At the extreme north of Ille-et-Vilaine, Pointe du Grouin reaches out into the sea. This wild landscape stands 40 metres above the sea and offers superb views. Dominated by a semaphore built in 1861, the rocky headland offers an incredible view of the Normandy coastline, the Bay of Mont-Saint-Michel and the Emerald Coast as far as Cap Fréhel. On a clear day, it is even possible to glimpse the Chaussey Islands!
NUMEROUS WALKS
Numerous trails will take you across flowering meadows and moors, leading you to some amazing viewpoints to observe the sea and the sea birds.  In particular, a 15 km loop will show you the rugged coastline, cliffs that plunge into the sea, as well as beautiful sandy beaches tucked away between the rocky headlands.
A HUGE DIVERSITY OF PLANTS AND BIRDS
Here in this natural site you can observe many varieties of natural species. The fauna and flora are incredibly rich. This site is home to the largest nesting site for coastal birds in Ille-et-Vilaine, such as the great cormorant, the European shag, the lesser black-backed gull or the only sea duck in Brittany, the common shelduck.
The cliff edge is carpeted with sea thrift, English stonecrop, blue bonnets, wild carrot and navelwort.
The Society for the Study and Protection of Nature in Brittany organises events in the summer and offers walkers the opportunity to observe the nesting birds on the Île des Landes bird reserve.



At Pointe du Grouin you can see the sun rise and set. This makes it the perfect spot for relaxing, observing nature, watching the colours change and, why not, having a drink with your partner or friends!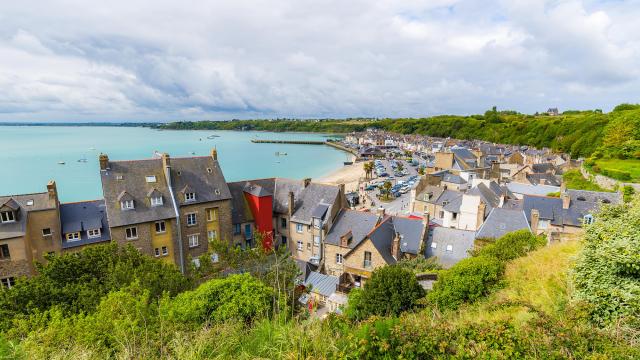 You may also like
Cancale, the oyster capital
The best way to appreciate the bay of Mont-Saint-Michel and its many surprises is with a plate of oysters on Cancale port, soaking up the mild maritime climate and breathing in the sea air.