SAINT-BRIAC, THE AUTHENTIC
The picturesque fishing village of Saint-Briac appeals with its charming architectural heritage and its exceptional points of view of the Emerald Coast. Set off on the hiking trails to discover, between land and sea, unique views that have inspired great painters like Signac, Renoir, Nozal or Bernard…
Discover also its fine sandy beaches, Nessay castle (now a luxury hotel), Dinard golf course and Pointe de la Garde Guérin.
SAINT-LUNAIRE WITH FAMILY
This former fishing port became a seaside resort in the 19th century when the trend for sea bathing took off. Saint-Lunaire has a very family-friendly atmosphere, little boutiques and large beaches.
Facing the sea, the Grand Hôtel and the Grande Plage with its red and white beach huts perfectly illustrate this holiday atmosphere.  Further along, Longchamps beach is the spot for water sports fans. 


Saint-Briac-sur-Mer was an amazing discovery! We loved the holiday atmosphere, the quality restaurants, the gorgeous beaches and Nessay. If you're looking for a destination in Ille-et-Vilaine or in Brittany more widely, you should really consider this seaside resort as a serious option.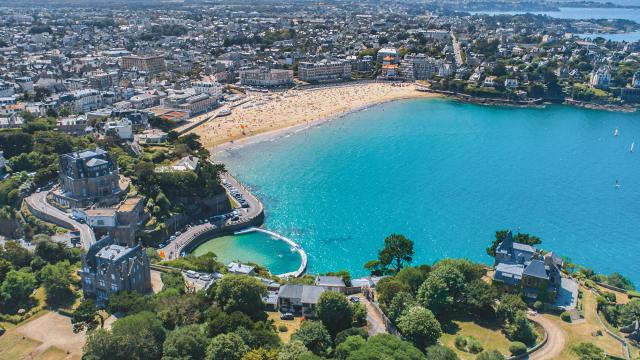 You may also like
Dinard, the elegant
Dinard, a seaside resort on the Emerald Coast, is marked by the Belle Époque and its British influences. With its 407 listed villas, its charm is timeless and very chic.