SATURDAY
9.00: Sea as calm as a millpond, shellfish
It is said that travel broadens the mind and sharpens the appetite. So let's start the day bright and early, especially as the children are raring to go!
So without further ado, put on your wellies and head for the Bay of Mont-Saint-Michel for a memorable morning collecting and digging for shellfish. Take good care to respect the authorised zones, sizes and quantities and make sure you use the correct tools to find cockles, clams, winkles and razor clams. You are in a natural environment, so please act responsibly (only take as much as you need, bury shellfish that are too small back in the sand and replace any rocks and seaweed you have moved. Above all, be careful (check the weather forecast and tide times, check for restrictions at the local 'Mairie' or contact ARS or IFREMER, take a mobile phone with you and never go alone.)
Follow your trip to the seashore with a visit to an oyster farm (notably with Ostreïka or with La Maison de la Baie which runs trips to the oyster beds in its 'mytili-mobile') or to the Ferme Marine at Cancale, or whet your appetite for lunch with a few size 3 oysters, flat or Pacific!
12.00 : Take a break
After this busy, bracing morning, you will surely be ravenous for some lunch. You have 2 options :
1/ lunch in Cancale or the surrounding area for those who can't wait : A Contre Courant (good food, friendly and efficient), La Table Breizh Café (a culinary journey) or Le Coquillage (delicious but you need to book a long way in advance) ;
2/ go a little further to discover restaurants of Saint-Malo like La Corderie (hushed atmosphere, an incredible view and excellent fish) or Le Bénétin (unique panoramic sea view and elegant cuisine), or carry on further to Saint-Briac and discover Le Rusty (green décor and seafood).





14.00: Hold tight…
The afternoon begins with a choice. After a morning in the open air followed by a good lunch, you hesitate between a restorative snooze on the beach at Anse du Guesclin and a trip to Fort Saint-Père and its treetop adventure trail which will surely put a smile on the children's faces. A difficult choice…!
Or maybe you are fascinated by the call of the open sea? Sensations Littoral offers a number of trips along the coast aboard old sailing vessels. That way everyone in the family is happy and sure to have a memorable experience.
The possibilities are endless for heritage enthusiasts. Examples include the Musée Manoli at La Richardais (devoted to sculptor Pierre Manoli, one of the first artists to create sculptures from molten metal plunged into water, whose 'Grande Voile' can be seen on the main concourse of Gare Montparnasse Railway Station in Paris), Saint-Samson's Cathedral and the 'Cathédraloscope' (cathedral discovery centre) at Dol-de-Bretagne and the enchanting village of Saint-Suliac on the river Rance where you can stroll through vines on Mont Garrot and maybe even catch a glimpse of the remains of a Viking settlement. Enjoy!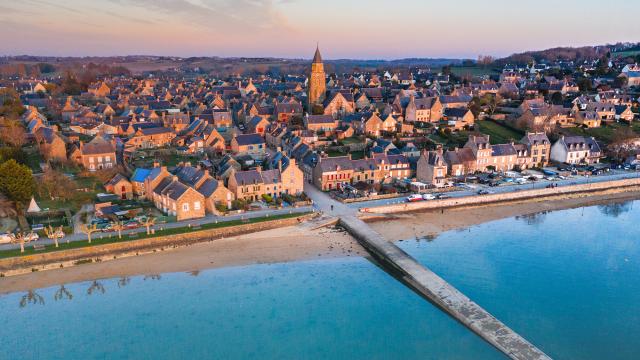 22.00: The end of the day…
This hectic day is drawing to a close and bed time approaches. The choice of accommodation is very broad and really depends on what you're looking for: Le Nessay (Saint-Briac) for romantics, Le Domaine des Ormes (Epiniac) for adventurers, Le Castelbrac (Dinard) for those in meditative mood or Les Charmettes (Saint-Malo) for those with a sense of fun.