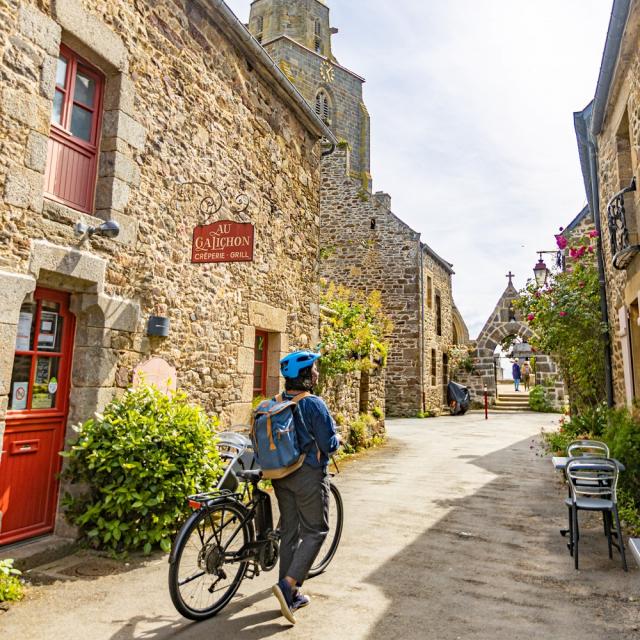 DAY 1: CYCLING ALONG THE BANKS OF THE RANCE
When we are out and about, we try to use gentle forms of transport so we have time to admire the scenery. Cycling is a pleasant way to get around and luckily there are plenty of cycle trails in the north of Ille-et-Vilaine. After hiring bikes in Combourg we begin our adventure in Saint-Suliac, classed as one of the loveliest villages in France.
Saint-Suliac : a character village classed as one of the loveliest villages in France
As soon as you get to Saint-Suliac, you see straightaway why the pretty village is among the loveliest in France.
Saint-Suliac is a typically Breton village with narrow, flower-filled streets and granite cottages with coloured shutters. Originally a fishing village, Saint-Suliac has a very pronounced history.
Inside the church which was built during the 13th and 14th centuries, there are lots of votive offerings in the form of suspended model ships which serve as a reminder of the 'Terre-Neuvas' fishermen who spent many long campaigns fishing the Newfoundland cod banks between the 16th and 20th centuries.
We carry on down to the harbour. Overlooking the village, the Oratoire de Grainfollet, dedicated to the Virgin Mary, was built in 1894 by fishermen and their families when their prayers to see all the mariners return safe and sound were answered.
Before heading for Saint-Malo, we sit on a bench facing the Rance. The deep-sea fishermen of days gone by have made way for holiday makers – some having a leisurely swim at the beach, others windsurfing, catamaran and optimist sailing or sea kayaking at the Centre Nautique de Rance water sports centre.